Good books for children should be entertaining, educative, easy to understand, and communicating. And the books about snakes are also the same.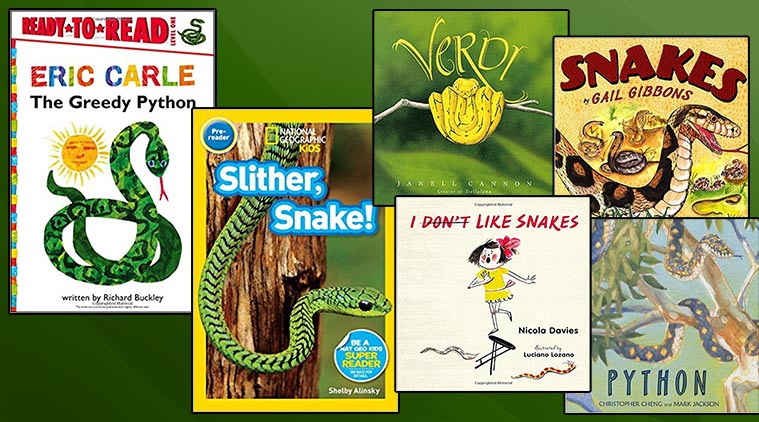 Bad books are tedious and complicated.
Every writer aims to communicate, educate, and entertain his audience. If a writer misses one of these aims, his words lose meaning.
Children's books should be entertaining, easy to understand, engaging, and educative.
When you want to communicate to children using books, pictures are essential tools to engage them. Most children are likely to first look at the pictures before they start reading.
Fonts are also another essential tool when writing children's books. Big fonts work better for children than small fonts. The style of the fonts, too, must be attractive to steal a child's attention.
This article is going to focus on children's books about the snake.
Even though snakes are scary, they are fascinating creatures that everybody wants to read on. Children, too, love reading about the snake. Thus, we came up with a list of the best children's books about the snake.
It is a story about a greedy snake that decides to swallow all animals that come his way. He eats ten animals, small and big. Together with the union, they start jumping, swimming, and flying in his stomach. They then start kicking, and he's left with no choice but to spit them out.
Python, greed is astonishing. And he does not learn his lesson. He thus sees his tail as a meal, and he swallows himself.
What we like
The story is entertaining
Good use of pictures
Simplicity
Humor
What we don't like
Lessons
Parents can use this story to warn their children against greed and failure to learn from their own mistakes.
They can also teach their children the importance of unity. When all animals act together, they all save themselves from the greedy python.
This book has over 2000 reviews on amazon. Don't miss your copy!
"The girl who wore snakes" is a beautiful story written by Angela Johnson. She is an American children book writer and poet-writer. She has written over 40 books and poems.
The girl who wore snakes is a story about a courageous girl Ali, who, upon meeting Silvia, a snake; she sees what other children could not see. She saw the beauty that she compares to the moon, earth, and everything in between.
Silvia, the snake, is brought to her school by the man from the zoo. Silvia sees the beauty in the snake, and she volunteers to hold the snake.
She then wares the snake around her neck, her arm, and her ankle. She later visits the pet shop and buys all the snakes in the store.
Even her parents are not comfortable with the snakes. Teachers, too, tell her to remove the snake during her test.
When she visits her aunt on vacation, everybody else is disgusted by the snakes except for one person who also sees the snake as beautiful as Ali does.
She compares the snakes color and beauty to the moon, the earth, and everything in between.
What we like
The story is entertaining and engaging
Easy to understand
Great lessons
Simplicity
What we don't like
The writer should have mentioned that some snakes are poisonous at the end of the story.
Lessons
Even when no one believes in what you see or feel, a day will come when someone else will see things as you do as long as you persist.
Always follow your heart no matter what others think.
It is a story about persistence beyond all odds.
It is a fiction story about a boy called Kali. He is from a village called Irula, and his father is a snake catcher. He's proud of his father until when he goes to school and says what his father does. The other children laugh at him.
Kali hates the school since no child wants to be his friend. They are all disgusted by what his father does. One day, a snake comes to class, and everybody, including their teacher, is afraid and runs away from the snake.
Kali, however, moves towards the snake and catches it. All the children and the teacher are amazed by his bravery.
They all look at him with a lot of admiration, and they all want to be his friend.
What we like about the story
Entertaining story
Great lessons from the story
Children can relate to the story
Simple language
Humor
What we didn't like
Children from urban areas might not be able to relate to the story.
Lessons from the story
It is a story about respect and patience.
Even though other children don't see the value in Kali, a situation happens, and he saves the day.
What they considered weird and insignificant is what they need on this particular day.
It is an exciting story for the children who look down on others.

It is a 32-page non-fiction book about snakes' fun facts. If your child is fascinated by snakes, this is the perfect book for him. This book is best suitable for children in grades 1-3.
What we like
The book has beautiful pictures throughout the pages to grab the child's attention.
The book also contains labelled pictures of a snake to help the child learn about parts of a snake.
The book is small in size and thus, perfect for a little kid's backpack.
The sentence structure of this book is perfect. The writer communicates so well with his words. By using words like "How big? Did you know? The writer can grab the child's attention.
What we didn't like
The writer missed one point when he generalizes that all snakes lay eggs. Some snake species, such as anaconda, give birth to their young ones.
Lisa is a grandmother who loves to read books for his grandchildren. She loves to write non-fiction books to educate the children.
In this book, she talks about anaconda fun facts. The book's groupage target is 3-7 years.
Being a grandmother, she writes with much love and understanding for children.
What we like
The book is educative
Simple language for children
The children's interest is glued by the awesome pictures of an anaconda when reading through the pages.
It is a great book to learn about anacondas.
What we don't like
Anaconda belongs to the boa family and not python as the writer states in her book.
Lesson
A good book to learn about anaconda snakes.
Verdi by Jannel Cannon
What an exciting story about Verdi, the young bright-yellow python who loves his color so much. He is afraid to grow into an adult python because he does not want to lose his beautiful color.
He tries so much not to become like his adult counterparts, but it seems that change is inevitable.
On the verge of trying not to lose his color, Verdi experiences a lot of almost fatal challenges.
Eventually, his color still changes to green, but he realizes that outer change doesn't mean he has to lose who he is from inside.
When he meets two young bright-colored pythons who think he's lazy, he teaches them how to form figure 8. He had learned this when he was young, just like the two young yellow pythons.
This book is perfect for children from the ages of four and older.
What we like
Simple language
Educative
Good use of pictures
Even though it's a fiction story, the writer mentions one fact about pythons.
What we don't like
The end of the story is a little confusing.
Lessons
Adults can use this story to teach children that we have to accept what we can't change.
Don't judge others if you don't know their story.
Nevertheless, even though inevitable will come our way, we must always remember who we are. The outside can change, but what we believe in will remain with us forever.
It is a story about a young boy who had always wished to visit his uncle, who runs a snake park.
Eventually, when he gets the opportunity, he's excited to help his uncle capture a green mamba. A green mamba is a dangerous, venomous snake that Alexander uses to portray the dangers in the Africa forest.
Akimbo comes face to face with the wild green mamba, and his bravery helps to catch the snake.
This book is recommended for older kids between the age of 7 and 12.
What we like
It is fun
educative
A great ending
Suspense
What we didn't like
Not so good for children who are afraid of snakes
Lesson
A good story to encourage children who are curious and daring.
It is a story about a young girl whose name is Miranda. She loves attention, and, on school pet's day, she brings Penelope her snake pet. Penelope is a big python snake.
At first, all children and other pets are scared of Penelope. But once Miranda introduces it, all the children are comfortable around Penelope, and they start playing with it.
Penelope steals all attention from other pets.
David, through the headmistress, portrays humour in the story. The headmistress doesn't like the snake. She describes him as a menace rather than a pet. She then locks all the other pets in an old cabinet except for Penelope.
She pulls Penelope by his tail towards her office and throws him in a dustbin. She then sits on the trash to prevent him from getting out.
Later, when Miranda comes to look for Penelope, she finds it sited on the headmistress's desk but can't see the headmistress.
That marks the disappearance of the headmistress.
It is an exciting story for young children of ages between 5 and 7.
The book leaves the reader in suspense, wondering what happened to the headmistress. Whatever happens to her depends on the reader's imagination.
What we like
The story is entertaining
Simple language
Children can relate to the story
What we didn't like
There's nothing important to learn about the story
Snakes And The Boy Who Was Afraid Of Them By Barry Lois Polisar
It is a story by Barry to demonstrate how people can take advantage of our weaknesses. Lenny, who is the main character here in the story, is so afraid of snakes. His classmates know about his fear, and they always use snakes to tease him.
His teacher is a little compassionate, and she takes him to see the school counsellor, but it doesn't help. She forces him to visit the zoo even though he is terrified.
At the zoo, other children are happy and excited to play with the giant snake, boa. Little do they know that at the end of the trip, two of them will go missing.
Where did the children go? Barry leaves that to your imagination.
What we like
Good illustrations
Simple language for little kids
The story is engaging
What we didn't like
The story does not solve any problem. Lenny's problems are probably worse at the end of the story.
Lesson learnt
We can learn not to trust people or things that are unpredictable.
People will always take advantage of your weaknesses. Don't let them show.
It is a non-fiction book showing pictures of different snake species. The book also tells the characteristics of those snakes. Children can use this book to learn how different species of a snake appear. The snakes featured in this book are king cobra, eye-lash tree viper, rattlesnakes, Arizona king mountain snakes, sedge viper, and boa constrictor.
It is a factual book for small kids to learn about snakes. The book contains large snake pictures that are also labelled according to the snake species.
This book is perfect for small children of 5 years and below. Even children who cannot read can learn through the beautiful large pictures of the snake.
At the back of the book, a map shows the natural habitat of the snakes mentioned in the book.
What we like
It is educative
Simple to understand
Good illustrations
What we don't like
Most of the snakes illustrated in the book are the rare species
Lesson
Conclusion
In a world full of books, it can be confusing choosing one from the other. And thus, we came up with the above list of 10 books about snakes.
When choosing which book to buy for your kids, age and interest are some of the factors you could consider. In all books we have picked for you, we have indicated the right age group target for each book to help you get the perfect choice for your children.
Feel free to share any other book you consider significant about the snake in the comment below.